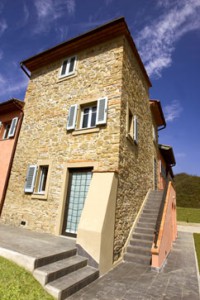 L'Agriturismo Rimaggiori e' un'antica casa colonica situata in un podere collinare boschivo nel comune di Barberino di Mugello a pochi km da Firenze.
Inserito in un contesto geografico di grande fascino, il Mugello fiorentino, terra ricca di testimonianze del passato con i suoi castelli e borghi storici,Rimaggiori e' il punto di partenza per una vacanza alla ricerca della Toscana piu' nascosta e segreta.
La casa e' frutto di un'accurato e recente restauro che ha mantenuto inalterato il fascino della casa di campagna, dotandola al contempo dei comforts e della funzionalita' di una struttura moderna.
________________________________________________________________________________________________
Agriturismo Rimaggiori is an old farmhouse located on a wooded hillside in the Municipality of Barberino di Mugello just a few kilometres from Florence.
In an enchanting setting, the Florentine Mugello region, with a rich historical patrimony of castles and ancient villages, Rimaggiori is a point of departure for a vacation in search of Tuscany's best-hidden secrets.
The house has recently been the object of careful restoration that has left its country home atmosphere unchanged while, at the same time, providing the comfort and functionality of a modern structure.